How to prepare for IELTS at home without coaching - Your Guide
How to prepare for IELTS at home without coaching - Your Guide
Updated on 02 November, 2023
How to prepare for IELTS at home without coaching? Before we hold discussion on this topic, it is necessary to understand why the examination is so important. The International English Language Testing System (IELTS) is considered one of the primary tests of English language proficiency across the world. It is a must for those looking to get admission into higher education institutions in English-speaking countries or even those seeking job opportunities and future residency prospects in the same.
IELTS scores are also important for visa/immigration authorities in several countries. While many people choose group coaching or other professional coaching, it is possible to prepare for the test at home.
How to Prepare for IELTS at Home Without Coaching
Here are some tips that will help you prepare for IELTS at home without any coaching:
Do your basic homework- The very first step is to download the official guide and read it carefully. Learn all about the reading, listening, writing, and speaking sections in detail. Start planning and preparing at least 3-6 months before your date of IELTS exam.
Keep testing yourself- Keep alternating between practice sessions which are timed, and also give yourself optimal time for understanding texts and questions. If you have ever appeared for actual practice tests, check out examiner comments and model answers for assessing your performance.
Online IELTS training- You will find online IELTS training workshops, podcasts, guidance sessions, resources, and other materials in abundance.
Keep examination time restrictions in mind- You should have a clear understanding of the entire framework of the IELTS examination. You should keep practicing with timed tests as mentioned. Keep in mind the time limit of the examination and the time limits for every module or section. If you cannot complete your modules within their respective time limits, or you lose focus all of a sudden due to time pressures, you may lose vital marks and miss multiple questions.
Enhance English skills the fun way- You should not only keep practicing tests and reading through course material. Try and enhance your vocabulary more holistically. Watch English movies, go through videos and podcasts, watch English television channels, read magazines and books and enhance your vocabulary. Keep distractions away with dedicated study hours- Self-learning requires immense discipline and dedication. Ensure that you are regular with your study schedule and are attentive for the time duration without any distractions. Break down your learning into manageable chunks and take breaks to avoid burnout.
You Can Also Read Sample Questions and Answers For The IELTS Passage: Green Wave Washes Over Mainstream Shopping.
Ace your IELTS Writing Score with our comprehensive list of expert-approved IELTS Writing Task 2 Topics.
Important Resources to Read for IELTS Exam: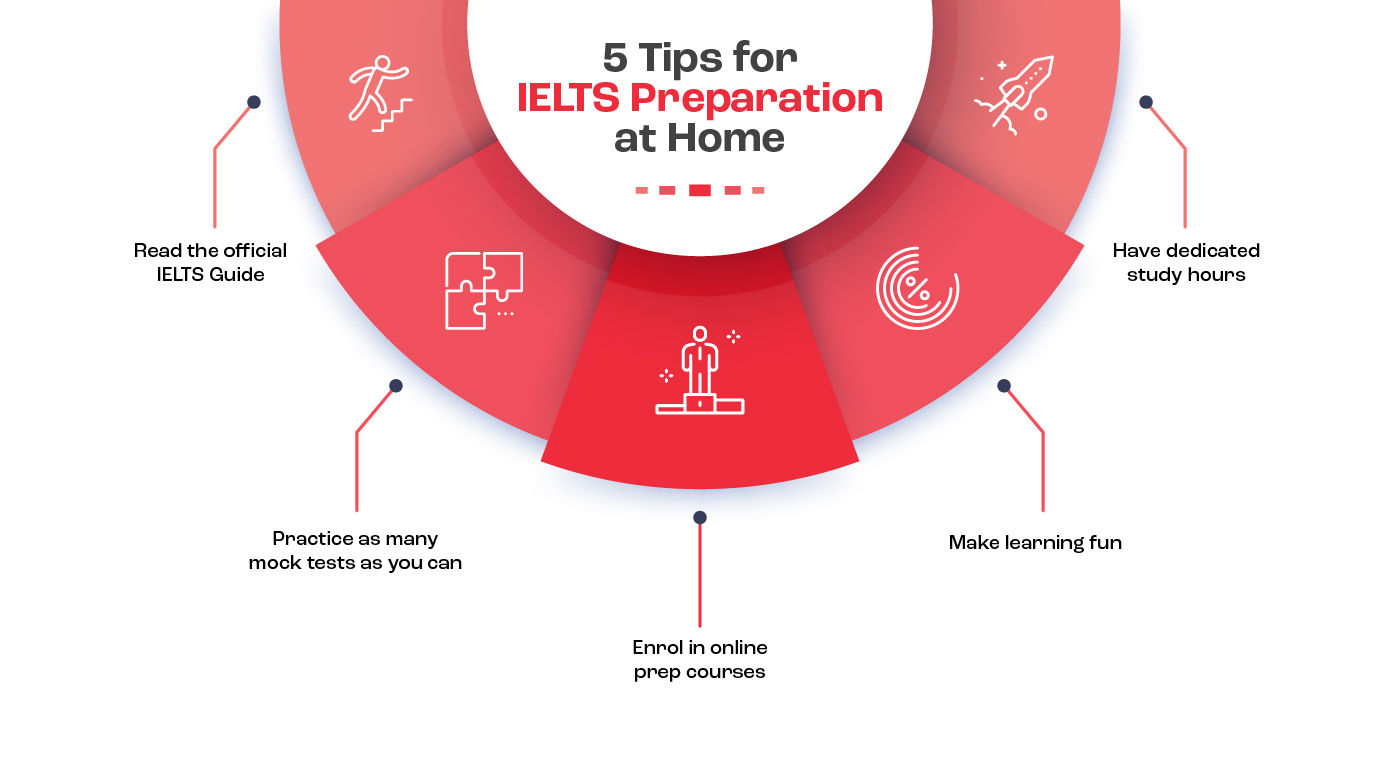 Download E-Books for IELTS Preparation


How to Improve English Through Online Tools
Working on your English skills can seem a bit challenging at first but with practice, it is possible to achieve a good command of each aspect of the English language: speaking, listening, reading, and writing.
Along with attempting practice tests, recording yourself answering speaking questions and reading books and newspapers, and listening to online podcasts, you can take the help of some online tools such as Quizlet, Forvo, Word Reference, and Lang 8. There are several IELTS online courses too that can aid preparation.
Read More:
IELTS Requirements | reading band score | IELTS Test | IELTS Speaking |
Section-Wise IELTS Tips for Preparation
IELTS Reading Tips-
You will be tested on your reading skills for aspects like information, primary thought, gist, skimming, understanding of any rational argument, and also knowledge of intentions, views and attitudes of authors.

Read as much as you can. Read newspapers, books, blogs, and more. Any writing in English will do since you will have to be adept in giving smaller responses, matching facts, completing diagram labels, offering full sentences and matching headings during the test.

Broaden the overall range of your test preparation material. You should be ready with a diverse array of answers and activities as much as possible.
IELTS Writing Tips-
Bring out those books. Check your older textbooks, especially your previous grammar books and English study material. They will aid you immensely in preparing for the IELTS.

The more you write, the better you will become at it. Try to write at least once a day, even if it is just for a few minutes.

Ask a friend, teacher, or tutor to read your writing and give you feedback. This will help you to identify your strengths and weaknesses, and to make improvements.
IELTS Listening Tips-
The listening portion is really tough, and you will have to offer answers to around 40 questions for four recordings which will be played just once. Questions usually include sentence completion, description completion, completing forms, and multiple-choice questions.

During the conversation, it is easy to get lost at times but you should recover fast or you will miss all subsequent questions of the entire assignment.

Prepare yourself for situations where there are distractions and train yourself to overcome them fast, and come back to answer the questions.
IELTS Speaking Tips
Get a buddy to practice online or at home with you. You can both play candidate and examiner.

Record your mock speaking tests and see how you are performing and where there are gaps.

Try and note down everything you said in the form of a transcript, this will help you identify errors faster.
Download IELTS Sample Papers


Download IELTS Preparation Guide For Free
Get to know about the latest updates on the IELTS Exam, Eligibility, Preparation Tips, Test procedure, Exam Pattern, Syllabus, Registration Process, Important Exam Dates, and much more!! This guide is a one-stop solution for every IELTS Aspirant who aims to crack the exam with an impressive band score.
IELTS Booster Program
In order to prepare the aspirants for their study abroad journey, upGrad Abroad has launched a 12-week long booster program that assists students in IELTS preparation, Academic Writing, Profile Building, University Application, Education Loan, and Visa process. The program also features an International Faculty Masterclass where the leading subject matter experts and corporate leaders share their experiences with the students.
Frequently Asked Questions
How to prepare for IELTS at home?
In order to prepare for the IELTS exam at home, you can try these simple tricks such as: do your research about all four sections; speaking, listening, reading, and writing, attempt practice tests, record your mock speaking test, develop your reading skills by spending more time reading books, magazines and newspapers.
How to prepare for IELTS at home without coaching?
It is possible to prepare for the IELTS exam at home without coaching by taking the help of youtube tutorials and practicing online test samples.
Can I pass IELTS without coaching?
Yes, you can pass the IELTS exam without coaching if you practice all the sections consistently. However, it is advisable to take coaching so that you can clear your doubts in case you face any challenge in solving any particular section.
How can I start IELTS preparation at home as a beginner?
To begin with, start by knowing the exam format, then start practicing each section consistently. To improve your speaking skills, record yourself answering mock questions. Start developing a fine hold on your reading skills through blogs, newspapers, books, and magazines. Enhance your vocabulary by learning new words every day and practicing writing questions. Lastly, in order to score well in the listening section, practice as many listening tests as possible.
Popular Study Abroad Destinations
Important Study Abroad Articles
Scholarships for Students
Learn about types of scholarships, how to get a scholarship, their sources & a lot more.
Scholarships for Students